Commercial Kitchen Extraction from KCM Catering Equipment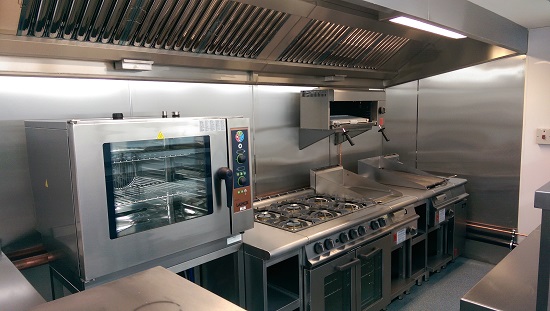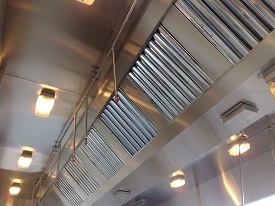 Ventilation within a commercial kitchen environment is extremely important, not just from a comfort perspective, but also for health and safety.

The purpose of a kitchen extraction system has always been to remove heat and grease generated from the cooking equipment beneath it, however it also serves a much wider role. The use of gas cooking equipment creates carbon monoxide gasses from the combustion process, warewashing equipment and boiling generates steam all of which need to be removed from the working environment.

In order to provide a safe and comfortable working environment, commercial kitchen extract systems need to address a number of key areas. For the comfort of those working in the kitchen, ventilation needs to be provided to ensure sufficient clean, cool air, furthermore the supply of air must be sufficient for complete combustion of gas burning equipment. The gasses then generated by the combustion process needs to be effectively removed from the working environment and expelled to a safe exterior location.
The removal of these gasses should take place as close to the generating source as possible. Any system should be effectively kept clean from grease and fat residues to prevent any possible fire hazard or reduce the effectiveness of the system.

Air that is extracted from the kitchen environment needs to be replaced, as a general rule approximately 85% of the total air needed should be provided by mechanical ventilation with the remainder drawn from surrounding areas. In some kitchens it may be acceptable to provide the replacement air by means of ventilation grilles in walls, doors or windows, if this method is used then some form of fly screen should be used to prevent pest problems.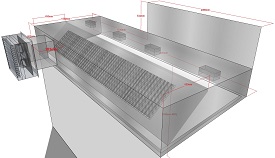 Kitchen Extract System Design
Commercial kitchen ventilation systems can be designed for either back or front of house, tailored to individual operational and design requirements. They can be either of a wall or island type with various options for filtration systems.

Most commercial ventilation canopies will use Baffle grease filters, as air is drawn through them it is forced to change direction and speed, this causes the grease to separate and run off into collection troughs. Generally cleaning of the filters can take place in a commercial dishwasher.
Other filtration systems are available, some of which are also able to remove odour as well as grease particles. We would tailor any system to your requirements to meet not only your operational but also budget needs.
Gas Supply Regulations (BS 6173)
All new and some existing installations where modifications or new equipment is being installed must have a gas interlocking system to comply with BS6173:2009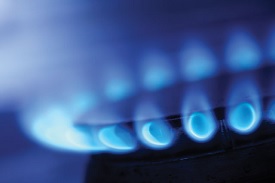 The installation of an interlock system will prevent the gas from being turned on until the ventilation system is fully operational. An interlock system uses an air pressure sensor or electrical current monitor to detect when the canopy is operational and working with sufficient air flow to comply with the regulations, once these conditions are met the system will allow a normally closed gas solenoid valve on the incoming gas supply to open.
While the air flow continues to meet the requirements gas equipment can be used normally, if the airflow falls below the required level or the ventilation is switched off the gas flow will be automatically switched off.
All systems that we supply and install for commercial kitchens using gas fully comply with BS6173:2009 with all gas components and catering equipment installed by commercially registered Gas Safe Register (previously Corgi) installation engineer
Where an existing ventilation system is in place the installation of an interlock system would be required by the replacement or retro installation of a Class 2 gas fired appliance, most but not all commercial gas fired prime cooking equipment falls into this category.
If you are looking just for a Gas Interlock System to ensure that you comply with BS6173 then we also sell the individual components
(click here)
.
Stainless Steel Wall Cladding
Stainless steel wall cladding is ideal for areas which are directly subject to high temperatures, for example behind cooking ranges and under extract canopies. Also very easy to clean and fully EHO compliant, stainless steel sheeting can be tailored to suit most cooking areas.

We can supply and install stainless steel cladding to go beneath kitchen extraction canopies, or anywhere else where it may be required.
Commercial Kitchen Fire Supression Systems
As part of your new kitchen extract canopy installation, or as a retro fit KCM Catering Equipment can help design supply and install a fire supresion system tailored to your environment. We can supply and install either Ansul or Amerex systems depending on your site requirements, preference, and budget.
Amerex Fire Supression Systems
KCM Catering Equipment are proud to be able to offer Amerex fire supression systems as part of its schemes.

All Amerex Restaurant Fire Suppression Systems offer:

• Less agent, fewer nozzles and higher nozzle height
• Around the clock protection with automatic detection
• Three detection options—fusible links, linear pneumatic and linear fusible links
• Wet Chemical agent with a low pH that's non-corrosive to stainless steel
• Pre-filled pressurized tank for reliability and ease of maintenance
• Listings with all major manufacturers of gas valves
• ANSI/UL300, ULC/ORD 125.6-1995, LPCB, CE marked, MEA and SOLAS listings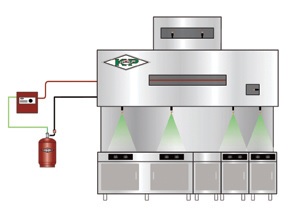 Amerex KP Restaurant Fire Suppression System
Amerex offers two systems to meet the industry's varying needs. With the Amerex KP Restaurant Fire Suppression System you get appliance-specific coverage that typically offers lower initial cost. The KP system is ideal for uses where appliance location is fixed such as in fast food chains, casual dining, cruise ships and school cafeterias.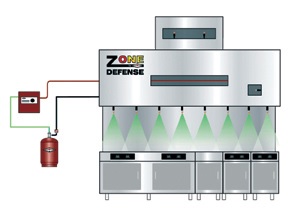 Amerex ZD Restaurant Fire Suppression System
The Amerex ZD Restaurant Fire Suppression System adds greater flexibility by letting you reconfigure a kitchen or move appliances without moving nozzles. Because of its adaptability,
this system is the most cost effective choice over the life of the system. The ZD system was designed with fine dining, culinary schools, military facilities, hotels and hospitals in mind.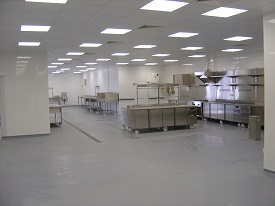 Further Details and Quotes
Commercial kitchen ventilation systems are normally provided as part of a commercial kitchen scheme, for further details or for quotes please contact our sales team on 01476 593062.
We are also able to provide ductless systems suitable for electric equipment, along with a selection of 'off the shelf' commercial kitchen ventilation systems and components which you can find by
clicking here.