Gas and Plumbing Services for Commercial Kitchens
Gas safety within commercial kitchens is an area that has grown in importance over the years. Modern commercial catering equipment is designed to provide the highest levels of safety, but if not backed up by a correctly designed and installed set of services then that safety is compromised.

KCM Catering Equipment can offer gas, water and waste services from experienced Gas Safe Register (previously Corgi) engineers. Commercial kitchens often place heavy demands on their plumbing systems and a breakdown can be an inconvenient and costly problem. We fully understand the requirements of the equipment we supply and as part of our design service ensure that the gas and plumbing services we install are to the highest standard to provide a safe and reliable kitchen.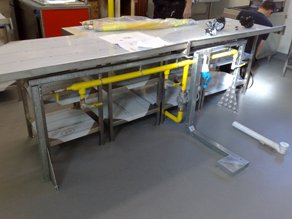 The importance of commercial kitchen extraction systems in relation to the use of commercial gas fired catering equipment is central to our design services. KCM Catering equipment can provide the necessary advice, design and installation of gas interlock systems to comply with BS6173 in conjunction with our commercial kitchen extract canopy design and DW/172.
For more information and advice on gas and plumbing services for your commercial kitchen and commercial kitchen extraction please contact us.
Right panel
Clicking outside this panel wont close it because clickClose = false